Eidinger-Taylor Discusses Current Housing Market With WBJ
Posted by Dave Kowal on Friday, July 7, 2023 at 11:49:37 AM
By Dave Kowal / July 7, 2023
Comment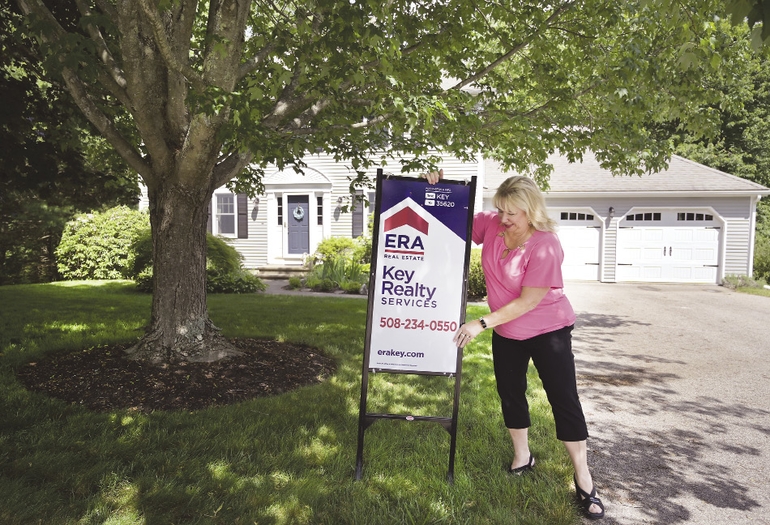 ERA Key President and COO Cheryl Eidinger-Taylor discusses the local housing market in the latest issue of the Worcester Business Journal.
LATE SPRING: THE BOTTOM HAS DROPPED OUT OF THE SINGLE-FAMILY HOUSING MARKET, BUT REAL ESTATE AGENTS SEE THINGS WARMING UP
By Timothy Doyle
The first half of 2023 was a difficult one for home buyers and for real estate agents as single-family home sales cratered and home prices plateaued high above pre-COVID levels.
In Worcester County, year-to-date single-family home sales fell by nearly 28% through April compared with the same time period in 2022. The median sale price in the first four months of 2023 in Worcester County was $400,000, down slightly from $405,000 in 2022, but up from $290,000 in 2019, according to data from Peabody-based research firm The Warren Group. The early-year decline was a continuation of a trend started in 2022.
Now, real estate professionals are optimistic for a normalization of the market for the rest of the year.
"This is a late spring market, later than normal," said Cheryl Eidinger-Taylor, president and chief operating officer with ERA Key Realty Services in Whitinsville. Eidinger-Taylor added she is seeing the beginnings of an uptick normally seen in April.

Tough time for the buyers
Real estate professionals told WBJ the main culprit is a lack of inventory. The dearth of homes for sale is caused by existing homeowners who are unwilling to part with their homes, which they bought or refinanced during a time of record low interest rates, people who moved away from expensive areas in the eastern part of the state, by slowing construction caused by inflation and rising interest rates, and by those who purchased homes as an investment.
In 2020 and 2021 during the COVID pandemic, interest rates hit historic lows, allowing people not only to borrow money to buy homes at an approximately 3% interest rate but to help them refinance their homes.
"The rising interest rates have less effect on buyers than on sellers," said Rick Healey, owner of Foster-Healey Real Estate in Leominster. Rising rates make potential sellers feel like they are handcuffed because not only have home prices been rising, but they would have to borrow at a higher interest rate than they are currently paying.
"What we're missing is people moving from smaller homes to bigger," Healey said.
Rather than move, some people are taking out home equity loans to improve or grow their existing home, said Ellen Steinfeld, executive vice president at Berkshire Bank, based in Boston. She has seen an uptick in home equity loans.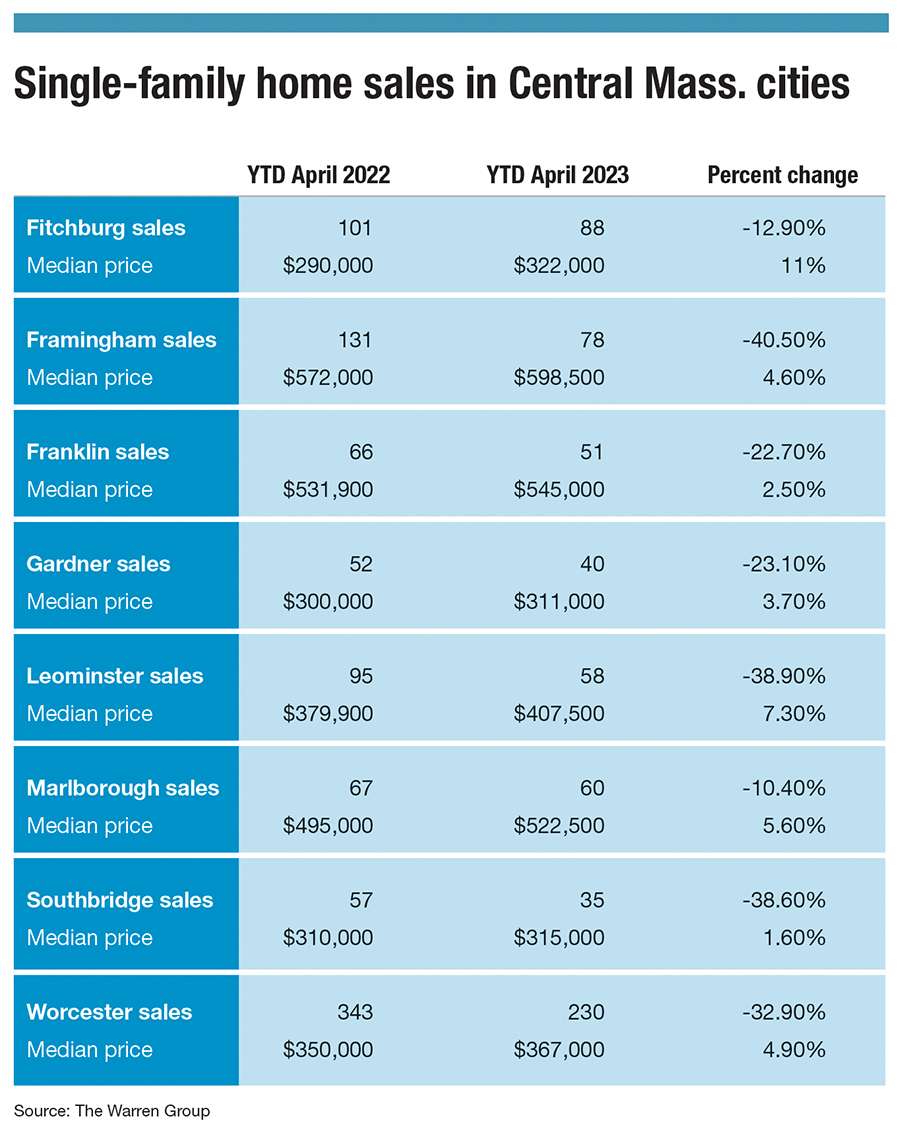 New construction woes
This has been a difficult time to build new houses to put on the market, said Eidinger-Taylor. Builders are facing higher interest rates themselves, and the cost of building materials and labor have played a significant role.
In 2022, single-family home starts in Greater Worcester were at 1,100, the lowest level since the statistic started being tracked in 2012, according to the U.S. Census Bureau.
The homes being built do not directly help people who are looking for a modestly-priced home. Builders can make more profit constructing larger higher-end homes because expenses like land, utilities, driveway, and foundation are similar for a ranch house versus a larger two-story, colonial-style home, said Eidinger-Taylor.
Another factor facing communities around Central Massachusetts has been a migration westward of people who are seeking less expensive housing. With the rise and staying-power of working from home and hybrid work places, people with jobs in Greater Boston or MetroWest communities, which typically have higher salaries, can move to Worcester County.
Healey has seen the increase in interest in North Central communities like Fitchburg, Leominster, Gardner, and even as far west as Athol, one of the handful of communities that saw an increase in sales in the first part of 2023.
North Central boasts an easy commute to Boston, Cambridge, and the North Shore along Route 2 and a commuter rail line. Healey touts the downtown development of Fitchburg, Gardner, and Leominster, saying people are looking for and finding a real community, rather than just a bedroom community.
Worcester real estate agency RE/MAX Diverse, owned by Leominster-native Hejoma Garcia, is aiming to dig into that new market with its purchase of RE/MAX Patriot Realty in Leominster.
"People have to go farther out to get something," said Elaine Evans, a 23-year real estate veteran and leader of the Elaine Evans Group at RE/MAX Diverse.
First-time home buyers with kids face another obstacle when choosing a place to settle down: school systems. Evans said even if a community has inexpensive housing, a buyer with a family may choose not to move there if the schools are of poor quality, cutting down on their already-limited options.
Buyers must navigate a sellers' market where homes are only available for 15-17 days, which Evans said was a much shorter amount of time than normal. She sees properties frequently sell for well over the listing price and has seen an increase in demands from sellers, including sellers who want to stay in the home after the sale for an extended period of time.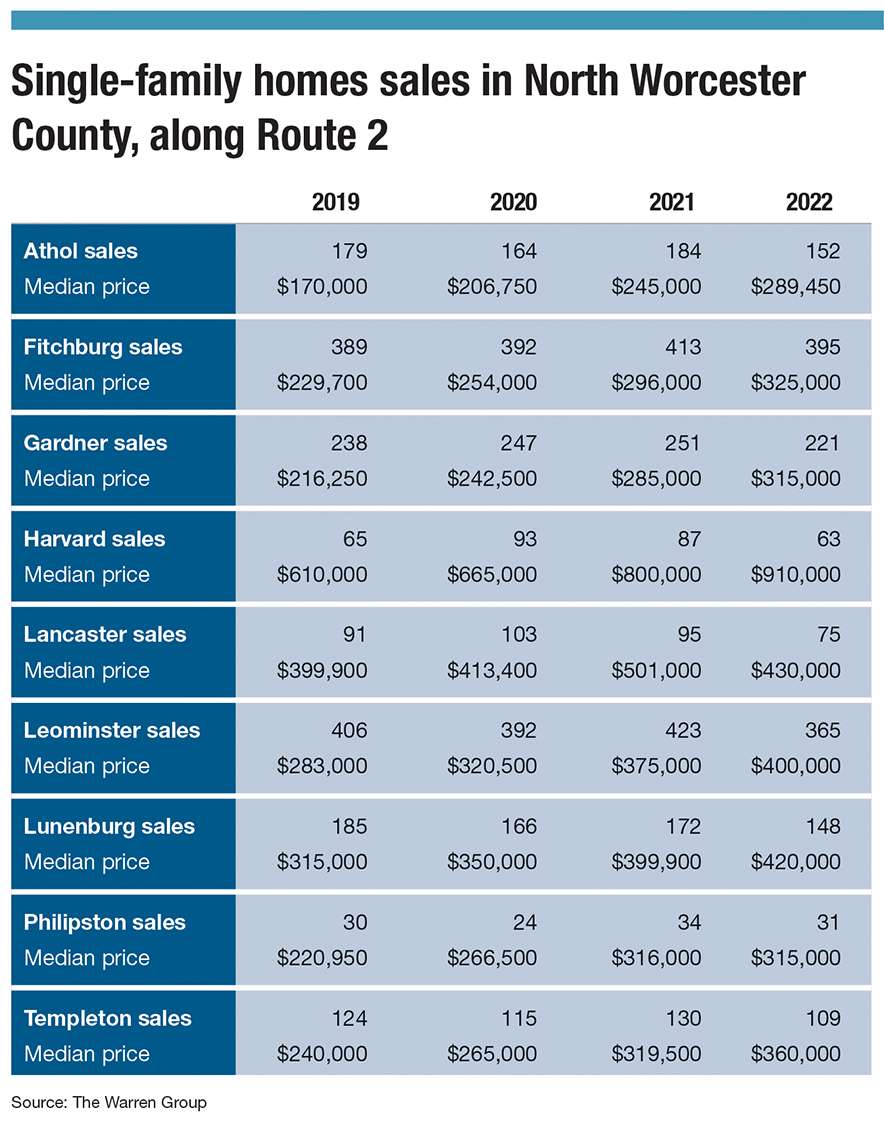 Tough time for the sales force
The drop in sales has been difficult for brokers who are new to the market. The pandemic saw people getting their real estate license online in order to take advantage of the hot market at the time. Now with fewer sales and more agents, pickings can be slim in the commission-based field.
Healey said there are 43,000 Multiple Listing Service participants (agents) in the region who have 3,600 listings to fight over.
"I've seen departures from the marketplace," said Eidinger-Taylor, "particularly people new to the market." More experienced agents, with developed networks and sales pipelines, can weather the slow times, she said.
"I already have my battle scars," said Evans, who added agents have to get organic and not sit at home and wait for the phone to ring. It's important to be nosy and understand the clients and their needs.
Going forward
The group of real estate professionals WBJ spoke with, each with decades of experience, foresee the market returning to normal.
Typically, the market heats up in April and continues through August, in time for the school year to start, said Steinfeld. Now, she is seeing mortgage applications increasing in June.
"People are feeling more favorable toward home-buying," said Steinfeld. "Interest rates hit an all-time low, but not an all-time high."
She recommends if people buy during a time when mortgage rates are higher, they make sure the mortgage doesn't have a repayment penalty, so they can refinance when rates drop.
Healey said it's a matter of people getting used to the market normalizing after a period of record-low interest rates. People have gained confidence in the economy since the latest potential debt-ceiling crisis was averted.
"People got spoiled [by low interest rates] during the pandemic," said Evans, who added potential homebuyers need to look at the bigger picture. "We bought a house at 13%."