Eidinger-Taylor Named Business Leader of the Year
Posted by Dave Kowal on Wednesday, March 9, 2022 at 9:45 AM
By Dave Kowal / March 9, 2022
Comment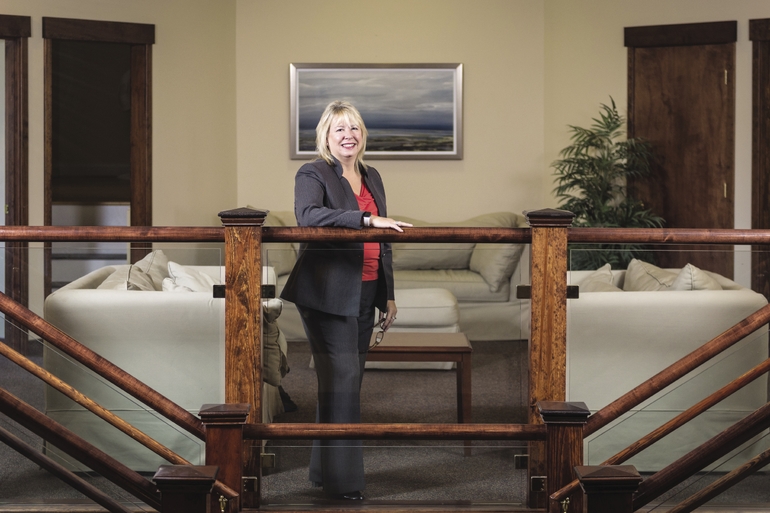 ERA Key President and COO Cheryl Eidinger-Taylor has been named "Family Business Leader of the Year" by the Worcester Business Journal. Below is what the Journal wrote about her.
Eidinger-Taylor keeps family values in real estate
Cheryl Eidinger-Taylor has sold more than 500 homes since she began her career with ERA Key Realty three decades ago. As the company grew, so did Eidinger-Taylor's role: progressing from sales into managerial, regional, and then company leadership positions.
Eidinger-Taylor finally hit a ceiling five years ago when she was named president and chief operating officer of the entire operation, dedicating the organization to being a true family business.
"Under Cheryl, and the entire Taylor family's leadership, Key has continued to grow and impact the lives of all our sales professionals and their clients," said Charles Hunt, executive vice president and COO of Hunt Real Estate Corp. in News York. "Cheryl leads with great vision and an exceptional focus on caring for everyone affiliated with us."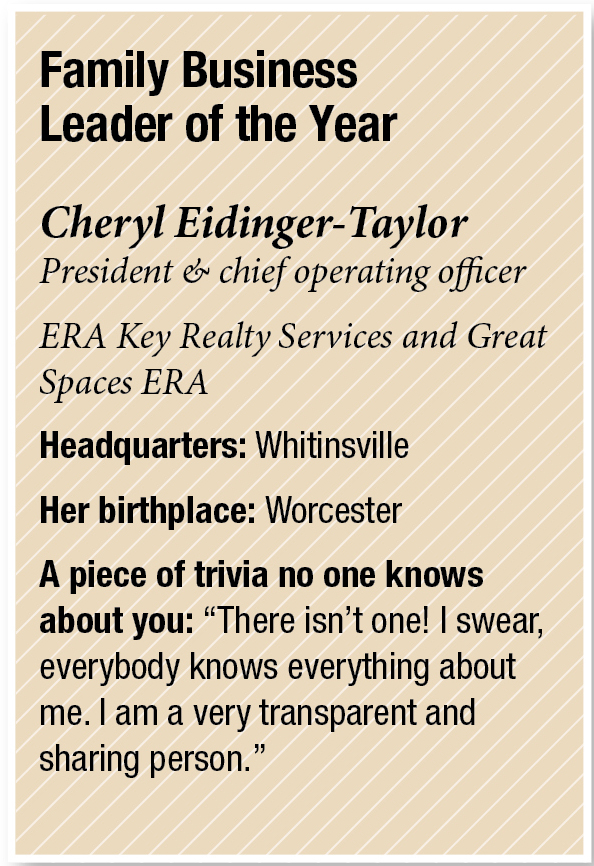 Eidinger-Taylor's governance proved pivotal throughout the coronavirus pandemic. While many industries came to a screeching halt, real estate exploded.
"When I look back, I think a lot of our success maneuvering through this pandemic has been because of sensitivity to everybody's needs," she said. "In the long term, people made decisions about their housing based on the fact that they'd been through this pandemic. They said, 'We're not going to wait until we're old. We're not going to wait until we're sick. We're going to live life now.' It really instigated a lot of activity that we weren't anticipating."
Recognizing her best sales professionals felt inhibited by working from home, she made creating a safe office environment a priority.
"We were deemed essential workers and because we have an amazing amount of square footage in our building, probably more than most real estate companies, I was able to let those who wanted to come back and work in the office, come back," said Eidinger-Taylor.
Meanwhile, ERA Key's charitable trust organization donated more than $25,000 to local charities in 2021 to help ease pandemic setbacks in the community.
"We have a really great program and agents contribute from every closing they have, every sale they make," she said.
Eidinger-Taylor has emerged as an industry leader, said Kathy Condon, president and CEO of MLS Property Information Network, Inc. in Shrewsbury.
"Cheryl is always ready to jump in and try to make the industry better," said Condon. "If she can make a difference in improving industry relations with just one or two people, she's more than happy to. She serves on multiple boards and truly cares about the industry. She's a people person, and it's evident in all she does. I consider myself lucky to have her as a friend."
In addition to Eidinger-Taylor's full-time job at ERA Key, she is a member of the Women's Council of Realtors and has served as chapter president. She was an officer in the ERA Agents Council and a member of the Real Estate Buyer's Agent Council and the Worcester Regional Association of Realtors. On top of that, she is an Accredited Buyer Representative, an Accredited Buyer Representative Manager, a Certified Real Estate Brokerage Manager, and a Performance Management Network member.
As president and COO, Eidinger-Taylor prides herself on building a positive workplace culture based on six core principles: hard work, teamwork, acting with integrity, giving back to the community, seeking solutions, and having fun. She vowed not to forget about the last one despite endless COVID-related obstacles.
"Last summer, we finally celebrated with a huge company bash to try to get everybody back together safely in person along with their families," she said. "And, yesterday we held our company's annual awards and end-of-year celebration."
If there is one thing Eidinger-Taylor cares about more than real estate, it is the well-being of her agents. ERA Key was named among the top places to work in the state in the large company category five years in a row, based on a survey administered by Energage for The Boston Globe. Eidinger-Taylor continues to organize annual training for all ERA Key agents, and she personally coaches three to five of the agency's most promising agents herself, meeting with them regularly and helping them build confidence, knowledge, and sales skills.
It is not an easy time to be in real estate.
"We are still, like everyone else, in this awful spot when it comes to inventory," said Eidinger-Taylor. "Everyone sold a whole lot of homes last year; it was a banner year at about 6 million existing-home sales in the nation."
Regardless of the market, Eidinger-Taylor is never deterred by a challenge, and, if history is any indication, ERA Key Realty will flourish under her leadership no matter what the future throws at her.