ERA Key Website Exceeds 100,000 Visits Per Month
Posted by Dave Kowal on Tuesday, September 29, 2020 at 9:52 AM
By Dave Kowal / September 29, 2020
Comment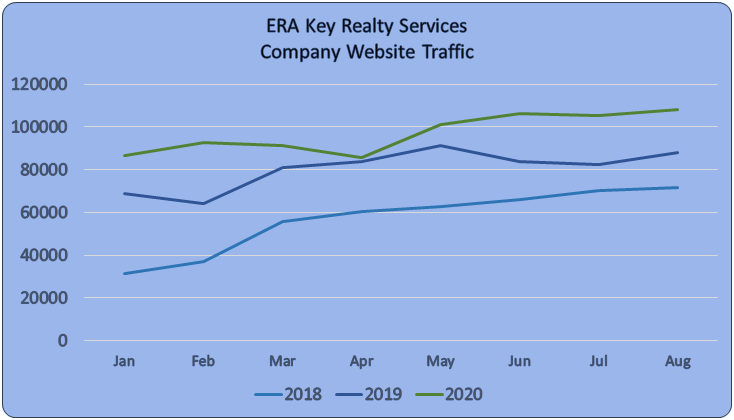 As the chart above shows, traffic on ERA Key's website has been building steadily and now exceeds 100,000 visits per month. Traffic has grown nearly 20% in the past year and about 35% over the past two years.
"While the personal touch continues to be important in the real estate industry, digital marketing has become an essential part of the home-buying process," according to ERA Key President Cheryl Eidinger-Taylor. "We have been consistently adding to our online efforts and that is paying off with an increase in website traffic."
By far, the largest percentage of home buyers begin looking for a home by searching for properties online, according to the National Association of Realtors. The NAR found that 93% of home buyers search websites to look at property and 73% use a mobile device in their search for a home; 86% use real estate agents and 53% attend open houses, according to the 2019 survey.
"While the initial process may start online," according to the NAR, "home buyers turn to the advice from a trusted real estate agent. The difference is that home buyers are entering the process more educated about the market before they speak to a home seller or an agent."