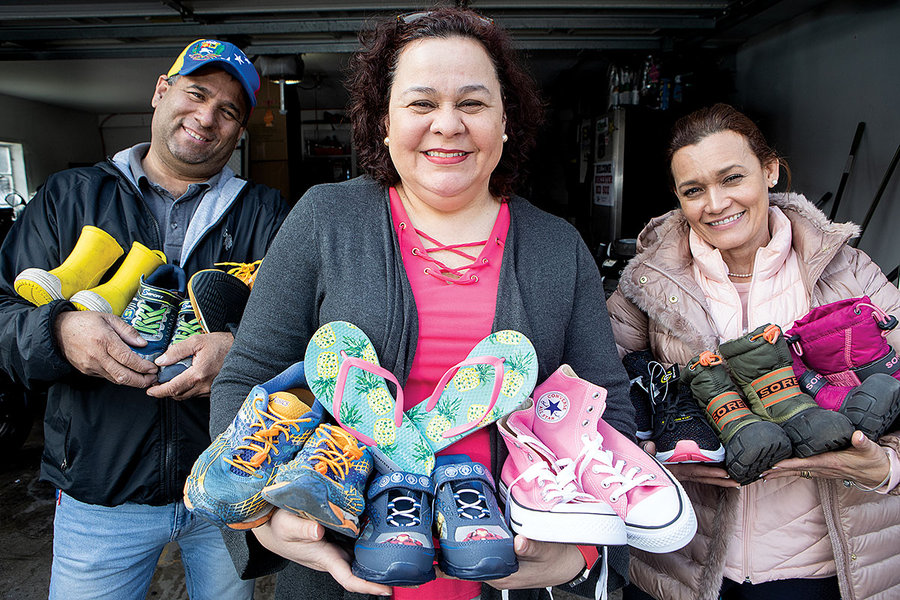 This article appeared in The Christian Science Monitor on April 4, 2019.
What can a former citizen do from afar for others trapped in a troubled homeland? In this case, organize an effort to meet a basic human need.
FRAMINGHAM, MASS. – Norman Canaie noticed that some of his students at a public high school in Caracas, Venezuela, came barefoot – if they came at all. So last year, Mr. Canaie handed out armloads of donated shoes to his pupils most in need. He made sure to save a pair of white Nikes for a student who had dropped out, ashamed of his tattered sneakers.
The new pair brought the student back to class.
"The children were overwhelmed with the shoes," says the English teacher in a phone interview. "They're always asking me if there are more shoes coming."
Martha Convers arranged the shoes' 2,000-plus-mile journey from suburban Framingham. Besides working as a real estate agent and Zumba instructor, she has a special side gig: Shoes for Venezuela.
Since moving from Venezuela to the United States in 2004, Ms. Convers has watched her country devolve into political chaos. But she repurposed her despair. She started the volunteer donation campaign in November 2017 and estimates she's shipped at least 3,000 pairs of shoes to the country. Recipients include schools, nursing homes, churches, and nonprofits. With food and other necessities scarce, receiving a pair of shoes can seem like a luxury, Ms. Convers says.
The political upheaval
Venezuela's contested president, Nicolás Maduro, continues to crack down on international aid. This has heightened a standoff between Mr. Maduro and legislative...